The Conference will explore key factors that organise how we function, beyond just the physical form. It is intended to provide a forum and meeting place for exchanging ideas at the cutting edge of holistic healthcare.
Parleranno alla conferenza:
Dr. Bessel van der Kolk
Clinician, researcher and teacher in the area of post traumatic stress, and author of Psychological Trauma, Traumatic Stress: The Effects of Overwhelming Experience on Mind, Body, and Society, and the best-selling book The Body Keeps the Score: Brain, Mind, and Body in the Treatment of Trauma.
Dr. Gabor Maté
Renowned speaker on addiction, stress and childhood development, and author of In The Realm Of Hungry Ghosts, When The Body Says No and Scattered Minds – The Origins and Healing of Attention Deficit Disorder.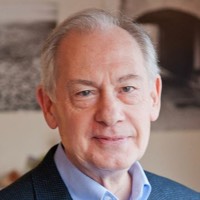 Robert Lever
Osteopath with over 40 years' experience, former lecturer at the European School of Osteopathy, recipient of a Medal of Honour for services to osteopathic education, and author of At The Still Point of the Turning World and Finding Healt 
Dr. Wendy Anne McCarty 
Co-founder of BEBA (a centre for family healing), founding chair of the Prenatal and Perinatal Psychology programme at the Santa Barbara Graduate Institute and author of Welcoming Consciousness: Supporting Babies' Wholeness from the Beginning of Life – An Integrated Model of Early Development. 
Dr. Rollin McCraty
Director of research at the Heart Math Institute, fellow of the American Institute of Stress and author of numerous published research papers about the subtle physiology of the heart and emotion. Co-author of the book Heart Intelligence. 
Dr. Gerald Pollack
Professor at the University of Pennsylvania, founder of the Pollack Laboratory, pioneering researcher into the properties of biological water and author of The Fourth Phase of Water, Cells, Gels and the Engines of Life and Muscles, Water and the Cell. 
Dr. Cherionna Menzam Sills + Katherine Ukleja
Therapists and international educators of Craniosacral Biodynamics, and 'grandes dames' in this field.
Cherionna also has a background in pre-natal psychology and Continuum Movement, and Katherine originally trained in osteopathy.
With more than half a century of joint experience they bring a profundity of understanding to the continual enquiry into the nature of Primary Respiration.
The international Breath of Life Conference brings together pioneering practitioners and scientists involved in grounding breaking research and the application of body-mind therapeutic approaches. It explores key factors that organise how we function, beyond just the physical form, providing a forum and meeting place for exchanging ideas at the cutting edge of holistic health. Each speaker will give an individual presentation and a panel discussion with all the speakers will conclude the weekend.
Post Conference Workshops
Dr. Rollin McCraty: 'Heart Rhythm Coherence: Practical Techniques and Technologies for Improved Self-regulation, Health and Cognitive Functioning' on May 15th 2017
Dr. Bessel van der Kolk: 'Healing Traumatic Stress: Helping Mind, Brain & Body To Let Go Of The Past' on May 16th-17th 2017
Dr. Gabor Maté: 'Trauma and Healing: An Exploration of Mental Illness, Addiction and Disease' on May 18th-19th 2017
Dr. Stephen Porges: 'The Transformative Power Of Feeling Safe: A Master Class On The Polyvagal Theory' on May 20th-21st 2017
The Conference and Workshops will take place at prestigious Regent's University, Inner Circle, Regent's Park, London NW1. Regent's University is beautifully located in Regent's Park in Central London. It is served by tube lines and bus routes and within easy reach of mainline trains.
Conference Organisers
Michael Kern has been teaching Craniosacral Therapy since 1987 and is a pioneering international exponent of the biodynamic approach, regularly running courses in Germany, Russia, Switzerland, Czech Republic and Italy. He is the founder of the Craniosacral Therapy Educational Trust in London, and has been a senior tutor for the College of Osteopaths, the International Cranial Association, the Centre for Professional Development in Osteopathy and the University of Westminster. He is also author of the highly acclaimed book 'Wisdom In The Body – The Craniosacral Approach To Essential Health', now available in ten languages.


Jane Shaw Craniosacral Therapist with a practice in Northern Ireland, runs her own workshops and retreats, and teaches Craniosacral Therapy practitioner trainings internationally. She is a current PhD student in Jungian and archetypal psychology at Pacifica Graduate Institute.
Contact us for more information or to book:
Tel: +44-(0)7495 814942
Email: info@breathoflifeconference.co.uk
Sponsors
Quando e dove
13/05/2017 - 14/05/2017
Regent's university, Inner Circle
Regent's Park
- London NW1
Sto caricando la mappa ....